GREEN PRODUCTION
What we do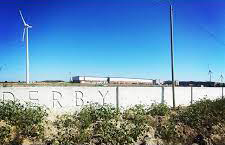 Sustainable Source of Power
We consider ourselves accountable to our stakeholders for Derby's environmental approach. This perspective inspired us to follow manufacturing practises in conjunction with Nature and its endless blessings. Keeping sustainability a key principle of its activities, Derby has taken steps to reduce its carbon footprint. Since 2015, Derby wind turbine has been running as the biggest source of the plant's energy consumption, enabling the production to be in harmony with Nature.
Green Raw Materials
Derby not only applies green production but also expects it from its suppliers. At the supply-chain department, the approval of potential vendors is based on many criteria, one of which is an environmentally friendly approach. The raw materials are assessed not only by their quality but also on their capacity for being recycled and on their effects on workers, as well as the environment, in general. Respectful of Nature and its gifts, Derby team sells the world's greenest conveyor belts, with carbon footage and CO2 emission reduced to the minimal level.
Energy-Efficient Solutions
Derby's promotion of Minimum Ply Concept belts allows efficiency in the energy consumption of our customers. It is also our responsibility to reach out to our customers and address their effect on the environment.